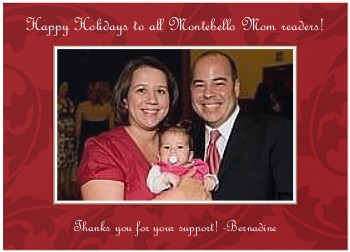 Elegant Tonal Red Christmas

I usually get order my Christmas cards from Costco but this year I'm going to use Shutterfly. If you are debating which one to order your cards through here is a list of how they compare.
Shutterfly offers nearly 200 design choices that can accommodate up to 8 photos. Costco offers 97 designs and can accommodate up to 6 photos.
Both Shutterfly's and Costco's photo cards are printed on photo paper, but Shutterfly offers a selection of cards that print on cardstock and open like "real" cards. Shutterfly's premuim cards can be customized with photos and written text inside and out!
Shutterfly offers two sizes of cards 4"x6" or 5"x7". Costco offers one card size 6"x7.5".
Both come with free envelopes that require only one stamp.
Shutterfly cards start at 32 cents per flat photo card, and you can order as few as 12. Costco cards are 30 cents each with a minimum order of 50, additional sets of 25 cards are $5.49.
Shutterfly shipping starts at $2.49, unless you order is $50+, use SHIP50 for free shipping. Costco cards have no shipping costs because you pick them up in store. Shutterfly has a service where they will stamp and mail the cards for you, you just provide the mailing addresses!
Shutterfly can get the cards to you in about a week. Costco cards can be picked up within hours.
I hope this helps you make the right choice! Visit
Shutterfly
or
Costco Photo Center
to start making your own Holiday card!
TIP:
If you get behind in making your Christmas cards you can always send New Years cards instead! Both Shutterfly and Costco offer "Happy New Year" cards.
UPDATE 12/15:
Yesterday I got my Christmas cards from Shutterfly, there was a mistake (they said it was my error, but I disagree). I called customer service and they gave me credit to replace the cards, free 2 days shipping, and the new cards have already been shipped! All in less than 24 hours! The cards are set to arrive on the 17th and will be in the mail the same day! Like I said, I love Shutterfly!